When it comes to bands with music industry credentials, it would be difficult to top Fishbone. A band whose fans include the Red Hot Chili Peppers, Prince, Seal, No Doubt and Sublime, and who have made music with, singly or as a whole, Curtis Mayfield, George Clinton and Miles Davis. A band namechecked as the pioneers of the American ska scene even by other bands within the genre, tireless anti-racism campaigners and founder members of the west coast chapter of the Black Rock Coalition.
It would come as a shock to discover, then, that since 1997 Fishbone are no longer signed to a record label, three founder members have left under less than happy circumstances, and that their last two albums haven't even received a release in the United Kingdom. What went wrong?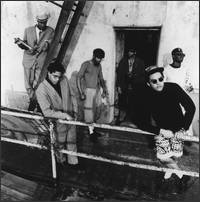 Starting out in 1978 as the bizarre result of forced bussing in the Los Angeles school system, five black kids from South Central L.A. ("Fish" Fisher - drums, Jon Norwood Fisher- bass, Kendall Jones- guitar, Chris Dowd- keyboards and trombone, Walt Kibby- horns) and one from the Valley (Angelo Moore- saxophone) set out on a musical odyssey flavoured by a multiverse of musical tastes and styles. Punk rock, P-Funk, jazz and most of all ska from the burgeoning UK 2-Tone scene were the predominant ingredients of their musical stew, but one could just as easily pick up the influences of Led Zeppelin, Bob Marley or the Beatles. "This is a true democracy," former guitarist Kendall Jones explained. "Everyone has their own personalities and input and musical taste, and we bring this all together."
The 1985 mini album entitled simply "Fishbone" consolidates the ska influences. It could almost be a 2-Tone release, but in Fishbone's world the ska rhythms and stylings come with strong guitar work and a speed and energy derived from their love of punk. 1986 saw them reach out into the other genres that interested them, and also gave us a taste of the bizarre humour and quirkiness that helped to put them on the same bills as their friends and partners in on-stage fireworks, the Red Hot Chili Peppers. "In Your Face" isn't in my opinion a great album, but it got Fishbone noticed, and helped them find a place within both the American ska underground and the nascent funk-metal genre.
1988 brought "Truth & Soul", what I would call without hesitation Fishbone's first classic album. It's the first album on which they directly address political issues, and has a very mature feel to it. As a whole, "Truth & Soul" gives me the impression of a blaxploitation soundtrack for a new generation; indeed one of the songs -"Slow Bus Movin'", did appear in a soundtrack - that of the movie "Tapeheads". Fishbone's credentials in the world of funk-rock were validated by a storming cover of Curtis Mayfield's blaxploitation classic, "Freddie's Dead". The album is by turns soulful and powerful, swinging from punk thrash-outs to skanking reggae. There's swinging jazz, a ballad or two, and insane bassmanship in the form of "Bonin' in the Boneyard". This album capitalised on one of Fishbone's greatest musical strengths: the ability to share vocals with equanimity and add the harmonies of traditional R 'n' B to their crossover rock mixture.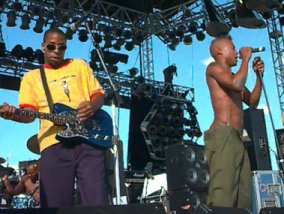 After "Truth & Soul" Fishbone made an effort to flesh out their sound (as if guitar, bass, drums, keyboards and horns weren't enough!) with the addition of guitar work of John Bigham, formerly a musician with Miles Davis. The result is "The Reality of My Surroundings", one of the most amazing records that will ever grace a stereo. It has to be heard to be believed: the layers of sounds that have been set down upon each other defy you to make sense of it. It was the first Fishbone record I bought, and I can remember sitting awe-stricken at the genre-obliterating pandemonium that was washing over me. Nothing I'd heard before had prepared me for what I was hearing. Imagine George Clinton, Prince, Led Zeppelin, Pharoah Sanders, Bob Marley and Frank Zappa getting together in music heaven, taking a whole mess of acid, and just jamming. And yet through it all there are still cohesive rhythms and vocal harmonies, melodies even. The album was the first to capture what the Fishbone live experience is like, a musical bulldozer that even so remains together -"tighter than a mosquito's ass" as Chris Dowd put it.
"Reality" was followed up by "Give A Monkey A Brain and He'll Swear He's the Centre of the Universe", the last Fishbone album to gain domestic British release. It's not as multi-textured as "Reality"; rather than throwing all styles into a melting pot, each song has a distinct style more in the manner of "Truth & Soul". There's soulful funk ("Lemon Meringue", "No Fear"), heavy rock ("Servitude", "End the Reign", "Swim") jazz-inflected ska ("Unyielding Conditioning"). Anyone who needed proof that Fishbone was a breed apart from other bands needed only to look here: when faced with the reality of police brutality in downtown Los Angeles, Ice-T and Body Count made "Cop Killer". Fishbone, coming out of the same area and just as aware of that bigotry and violence, made "The Warmth of Your Breath", a Zappa-esque thrash which suggested that perhaps the men of the Los Angeles Police Department were just a little too familiar with the anatomy of their police dogs. Not the highest form of satire, maybe, but a damn sight more subtle than Body Count's effort. The album was toured extensively twice, including a powerful (if technologically ill-starred) performance at the Reading Festival in 1993. However it was here at what seemed to some to be the beginning of their true stardom that Fishbone's problems really seem to have arisen.
The first major misfortune came when Kendall Jones left to join a religious cult. Fearing that he might be in need of psychiatric attention, bassist John Norwood Fisher attempted to bring him back. For his trouble he received a lawsuit for kidnapping from Jones' family. With John Bigham now in the place of Kendall, Fishbone continued to tour, only to meet with further difficulties. For reasons that were never officially made clear, keyboard player Chris Dowd was ejected from the band. He has since set up his own band, the Seedy Arkestra. The debut album, "Puzzle" is a collection of mostly ska and reggae tunes and a final track "Flog Your Dead Horse" which shows that there is no love lost between him and his erstwhile band-mates. (Norwood, upon hearing it, was amused by it, comparing it to an old school hip-hop "dis track", and hinted that they'd be weighing in with a counter attack in the near future.)
With the band now stripped down to five members, Fishbone parted ways with Columbia, their longtime record label. Again, it isn't clear why they left, but it seems likely that the label's pro-single stance was a factor, as well as their lack of support for the band. Signed to Rowdy Records, a division of Arista, Fishbone brought out "Chim-Chim's Badass Revenge", surely the most angry record they've ever made. Almost every song is a slice of rage and frustration about their predicament. On "Rock Star" their plight is made plain: "Unaware of how propaganda works I soon became a victim...With my black brotha's playin' rock & roll, signed and hoin' for a major label, selling my soul as a rock star."
Then, when things seemed as if they were about to turn around, the whole Rowdy Records label was axed from Arista! To date (May 1998), Fishbone remain labelless, although they have reportedly been considering offers from a number of strong independent companies. They have been touring exhaustively in the US, building up a strong and loyal fanbase of Fishbone Soldiers. Unfortunately, it seems to have been this last round of touring that has precipitated the latest line up changes.
First to leave was Jon Bigham, citing the punishing tour schedule as a reason to return to his wife and family. He was replaced by guitarist Tracey Singleton (Spacey T), formerly axeman in such groups as seminal black rock band Sound Barrier and the Black Arc project OG Funk. Chris Dowd was replaced by Anthony Brewster, and the touring continued, until mid April when it soon became evident that Fish, drummer extraordinaire and founder member, has decided that Fishbone can't pay his bills. He left, along with Brewster, to play on the recordings of R'n'B act Davina. The move seems to have caused no small amount of consternation in the remaining original Fishbone members: "This is turning into the black 'Spinal Tap'," said Angelo in an interview in April.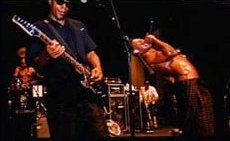 It isn't the end for Fishbone just yet. The current tour has a new drummer, CC (Clinton Cameron) and a new keyboardist, John McKnight. They've recently appeared on US television performing a new funky ska tune, "Just Allow", they appear on the ska compilation "Steady Sounds from the Underground" on Dummy Records with the likes of The Dance Hall Crashers, Bim Skala Bim and the Skeletones, and they've recorded a Rolling Stones cover ("Shattered"), possibly for use on a future album. Before that new album (and the new albums from Dirty Walt and Trulio Disgracias) will be the "Fishbone & Friends" project, featuring performances from many other artists.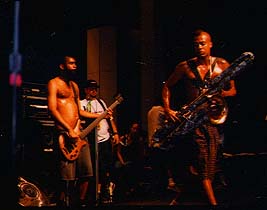 It would be an idiot who claimed that Fishbone don't deserve their place in popular music's hall of fame. Their sound pushes back boundaries and defies limitations. They stand as one of the great examples of how rock music has never been a solely caucasian territory. They're also our greatest warning of the corporate racism and pigeon-holing that dictates what we can and can't listen to. The last five years have been their most difficult period, but don't write them off yet.
"Fishbone is not about me or one of the guys in the band," says Angelo. "The music is bigger than any one of us. We might not be the biggest band in the world, but I know we mean a great deal to a lot of people. Over the years, people have come up to me and told me that we changed their lives. Those kind of people help me keep going."
Thanks to Tom in Vermont, Corey, Kriel, Phil, as well as everyone else on the Fishbone mail list who's kept me up to date with Fishbone news. Picture Credits: Daniel Mudd, Chris Schatz
Biography Update
Since this bio was written in May 1998, Fishbone have signed to Hollywood Records and the Fishbone and Friends project has become a reality. Officially due late 1999/early 2000, artists who have recorded for it so far include members of No Doubt, the Red Hot Chili Peppers and Primus.
The current (Nov '99) line-up runs as follows:
Angelo Moore: Vocals, saxes
John Norwood Fisher: Bass
Walt Kibby: Vocals, 3-valve brass
Spacey T: Guitar
Deion: Drums
John McKnight: Keyboards
You can also keep abreast of Fishbone news (and many other bands) by bookmarking my news page.
Fishbone Links
The Atomic Underground. One of the first Fishbone pages, and still probably the best one around. Comprehensive discography and picture gallery.
Hollywood Records Official site.
Unuttednations. Gaston's Official Fishbone site. It will soon probably also cover Weapon of Choice, Trulio Disgracias and a whole lot more.
www.fishbone.net A relatively new site, but it's shaping up very well!
The Mining Co's special on Fishbone. Loads of info on Fishbone and Angelo's solo work.


The Nuttwork Neighbourhood. Josef's page devoted to the Fishbone e-mail list. Come join up! One caveat: we don't just talk about Fishbone!
Fishbone en francais. Rachid's Fishbone page. It may be in French, but it's still great. Nutmeg crosses barriers of language too!
Dr Maddvibe's Hyperlinkology. For those of you who aren't familiar with the poetry of Angelo Moore's alter ego, let the Good Doctor amaze you.
Throttlebox, which features a Hollywood Records bio, an interview and downloadable tunes.
Fishbone at the Electric Factory. Great live pictures.
Back to The Nutmeg Index
Home Last updated 20/3/2000