Tura Satana, Bullyrag, Human Waste Project
Rock City, Nottingham, UK, Friday 7th November 1997
In principle, the idea of the varied bill appeals to me. Who wants to watch a band for half an hour just to see what sounds like a carbon copy appear on stage twenty minutes later? On the other hand, dropping radically different bands onto the same bill can often be the death of a gig. Tonight seems to have weighed more in favour of the latter view than the former.
Human Waste Project is a band that I'll admit to having never heard of before tonight. They have a good many supporters in the crowd though; their brand of hardcore-tinged rock has won a lot of coverage in the heavy music press. Though it isn't really the sort of music I'd rush out and buy, I have to concede that they put on an energetic show, particularly their frontwoman, who leaps about with a youthful abandon that a wizened old gig-goer like me can only reminisce about.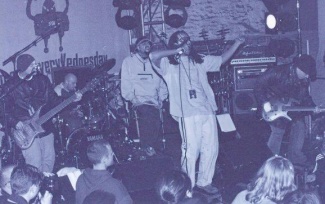 After a long wait, on come the band I came here to see: Bullyrag. My interest in them comes largely from the single "Frantic", and I have to say that they come as a disappointment. That's not to say that I have a problem with the tunes: most of them hit my musical taste buds square on. This is Nutmeg music with a thoroughly British slant: plenty of drum 'n' bass and ragga influences mixed with a little funk and dished up in a stew of marvellously heavy guitar. Some of the solos tend toward the unfashionably widdley though, leaving the crowd less than impressed. Bullyrag's spontaneous switches between musical styles - sometimes many times in one song - leave the audience unsure of which way to move. The frenetic pogoing inspired by Human Waste Project's punk beats has completely dissipated. The band seem disaffected as well; between every song they bitch about the smallness of the stage (this being the lower floor rather than the main stage), and there seem to be arguments raging between the different band members too. It's a shame: the lead singer's voice is well-pitched for the songs whether they require rapping, bellowing or drum & bass crooning. If Bullyrag can pull themselves together and put on a less volatile show I'm sure their breed of jungle-metal will build up a solid following and they'll be able to play stages that are more to their liking.
When Tura Satana finally arrive on stage the atmosphere of the gig seems to have become a little flat. Don't get me wrong, the Artists Formerly Known as Manhole have little trouble turning the floor into a broiling mosh pit soup; this is, after all, the band most of the gig-goers came to see. Tairrie B's impassioned vocals would put Rollins to shame in terms of energy and venom. Tura's slabs of chugging guitar and RATM meets Rollins rhythm section aren't really my bag of marbles, but there's no doubt that the band's sonic onslaught and Tairrie B's guttural vocals make Tura Satana a very fine live band.
That said, if Bullyrag had appeared first in the line-up, followed by Human Waste Project, the atmosphere wouldn't have dissipated halfway through and all three bands would probably made a lot more friends in the crowd. In my opinion, Bullyrag need to tour with bands of more similar musical styles (Dub War is the obvious choice, but I could see them going down well with fans of Fishbone, Asian Dub Foundation or even Faith No More) in order to build a fanbase that'll put them on the stages they so vociferously requested tonight.
Back to Reviews
Last updated 26/8/98. Live photo not taken at the gig. Sorry.