Senser, Finitribe
Derby Union One, Leeds Duchess of York, UK, 4th and 9th December 1997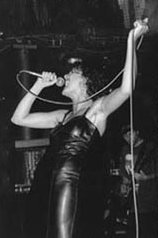 If you'd told me in 1992 that in 1997 the kings of dance/metal crossover would be The Prodigy, and that Senser would still be playing low-key gigs like these two, I'd have probably eyed you with no little incredulity. Nevertheless, just when Senser were about to ascend from indie favourites to premiere league alternative, rapper Heitham Al-Sayed, soundman Haggis and drummer John Morgan left the group. It could have eviscerated the band, and in a sense, it did. Heitham gave Senser a huge proportion of its energy with his machine-gun rapping (energy which, curiously, seems woefully diminished in his latter project, Lodestar). Since the split Senser have dropped from sight, on the British scene at least, their absence punctuated only by an appearance at the Phoenix Festival in 1996 and the single Charming Demons. If you're incredibly lucky you might get hold of the d.j.-only Weatherman e.p., but otherwise, Senser have been strangers to us. Fortunately, this is no longer the case.
I'd never come across Finitribe before the Derby gig. Less than impressed by the Union's lack of creature comforts (it's freezing in here!!) they launch into a mind-warpingly eclectic set interspersed by complaints about the arctic temperature. Complaints aside, they play as well in the cold of Derby Union surrounded by an audience of popsicles as they do in the warmth of the Duchess of York, where the crowd are at least warm enough to dance. Finitribe's music spans a bewildering array of genres and styles, fusing drum & bass and dance beats to swirling psychedelic guitars and even violins. Not the sort of thing to throw yourself around to, you understand, but I certainly enjoyed their set on both occasions.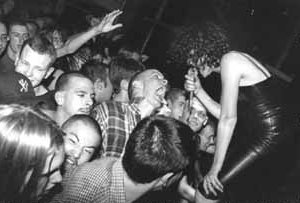 When Senser arrive, the quandary of their post-Heitham situation becomes clear. No-one knows any of the new songs, indeed most people are probably here to see them on the strength of the reputation they gained before the split (I noticed that the University of Derby's magazine didn't mention it when they did a pre-gig write-up). So should they play all the old songs without Heitham's characteristic vocal style to give them life, or come across will all-new songs as if they're just starting out? Well their solution is of course to cover the middle ground and play both in equal measure. First off on both nights is Switch, one of their biggest hits with Heitham, and a song which Kirsten, has no trouble in performing at all. Then two new songs, Book of Flies and Breed. No Comply is the song that suffers the most from Heitham's absence, both because of its style and its lyrical content. The personal nature of much of Heitham's lyrics means that listening to Kirsten sing them is a bit weird. To be fair though, there are only four or five of the old songs in this set; it's also true that Kirsten is up to the task of taking the lead vocals on herself. She paces back and forth at the front of the stage with an intensity reminiscent of a caged animal. The vocals lack the assault that the old Kirsten-Heitham pairing provided, but on the new songs at least, that doesn't matter.
What of the new songs then? Well from what I experienced here, they're different, but just as strong. The new single Adrenalin is a belter, but my personal preference is for Weatherman, a storming piece of techno-rock if ever I heard one (sadly weak sounding on the album, though). On both nights, I'll admit, I danced my 'nads off.
On both occasions the encore is The Key, sadly lacking the atmosphere of its vinyl original. They've got to end on a familiar song, I suppose. With luck, and if their new material receives enough backing from the music press, they won't need to do that. Senser still have the tunes and the live presence to make a bid for the premier league of alternative dance, alongside the likes of the Prodigy and the Chemical Brothers, and I for one hope they get there.
Back to Reviews
Last updated 26/8/98. Live photos aren't of the gigs reviewed. Call it poetic licence.