Ozomatli
Jazz Cafe, Camden Town, London, UK, 6th May 1999
A hundred and twenty mile coach journey isn't usually my preferred method of getting to a gig. Bus travel makes me nauseous and muzzy-headed. After three and three quarter hours of motorway tedium, I'm relieved to be deposited in a London drenched in late spring sunshine. I meet up with my friend Jon and his friends, and we make our way to the Jazz Cafe to see if Ozomatli can make amends for my hot and cramped travelling conditions.
It takes approximately thirty seconds to dispel all my doubts. Ozomatli are quite categorically one of the finest live acts in the world.
From the balcony above the dance floor comes an insistent latin beat and frantic Rio-carnival whistle-blowing. Ozomatli have arrived. The drumming comes steadily louder, closer, and the various members of Ozomatli emerge from the stairwell and out onto the crowded floor, each bearing a percussion instrument, each beating in time. Without pausing they climb onto the stage, take up their places and instruments, and launch into the frenetic, horn-drenched Chango.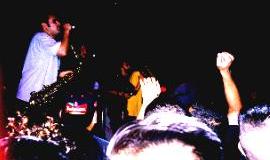 Already I'm blown away. What an entrance! I bought the album over the internet almost a year ago, and I've rarely gone a day without listening to it, but the live performance of these songs is something else entirely. I'll confess that for all my professions of musical open-mindedness, what I know about the music of Latin America can be written on the back of a postage stamp; I can't dance in the salsa style (let's be honest - I dance like an electrified baboon) and up 'til now the only representatives of hispanic culture in the lives of me and my mates have been unhealthy fixations on both tequila and Jennifer Lopez.
It's a big assumption, but my guess is that most of the people here tonight have similarly suffered from this cultural impoverishment. It's a testament to the band's musical skill and stage presence that so many songs sung in Spanish (which isn't usually taught in UK schools) have such a marked effect on the crowd. Sure, many people are here at the promise of hip-hop like the single Cut Chemist Suite; they're probably Jurassic 5 fans, so they relish the prospect of any band containing the rich-voiced and charismatic Chali 2na. But all of Ozomatli arrest the attention. And it's not just the organic and funky hip-hop; they can just as easily capture the crowd with a bouncing reggae skank, a zappaesque thrashout or a lilting salsa. It's difficult for me to recall a band so in love with playing their music, who can at the same time communicate that love to the whole venue. They bounce in unison, they fool around, they batter down the walls of our proverbial British reserve.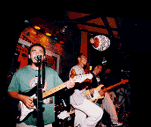 This isn't just mindless party music, you understand. Ozomatli have a strong political agenda, coming as they do from a city where the needless gang violence and gun crime are an everyday occurence. Tellingly, they dedicate Cumbia de los Muertos to the people who died in the recent spate of racist and homophobic bombings on the streets of the capital. That's the beauty of Ozomatli's music: they infuse politically astuteness with a positive mental attitude.
By the end of the gig we're a collective exhausted mess. Dance styles match the eclectic music on offer: salsa, pogoing, head-nodding, grooving. I partook of all of them but still managed to look like an electrified baboon. As Ozo troop off the stage in the same way they arrived, we prepare for the usual encore, but the band have something better planned. They stop in the centre of the dance floor, still beating out the infectious latin groove, whistles, drums, horns and all. We surround them clapping and cheering, and they launch into a medley of tequila-soaked mini-covers. James Brown, Black Sabbath's Iron Man (bassist Wil-Dog enjoins us in heavy metal saluting), the theme tune from Sesame Street (again, Wil-Dog punctures the air with the heavy metal hand-sign). This house belongs to Ozomatli.
The coach journey home will be just as hot an stuffy as my arrival, and it will detour an extra fifty miles to compensate for traffic jams on the motorway. Every single mile will be worth it.
Back to Reviews
Live photos are for flavour only - they're not from the actual gig. Sorry.
15/5/99