No Nutmeg index would be complete without an entry for Weapon of Choice. This band, more than any other, represent the Nutmeg "everything but the kitchen sink" attitude. Perhaps even more than Fishbone, they are the Nutmeg band. Indeed, it was Lonnie "Meganut" Marshall who first coined the term.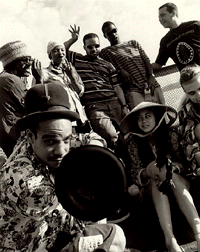 When the his previous band Marshall Law broke up, bassist Lonnie "Meganut" Marshall founded Weapon of Choice with former Psychedelic Zombiez keyboard player Keefus Cianca in 1992. One of the inspirations for the band was the frustration that Lonnie felt in dealing with the music industry. The music of Marshall Law had spread across many styles and genres, and Marshall felt that record company representatives didn't do such bands justice. Marshall Law's record company sat dumbly on the demos, unable to assess its "target market" and fit it into a snug genre category. With guitarist Finn Hammer, trombonist Tom-bone Ralls, Mark Cross and Audra Cunningham on vocals, Space Boy on drums and Jellybeen as "Groove Traffic Controller", Weapon of Choice put out their first album, Nut-meg Sez Bozo the Town, in 1995 on Stone Gossard's Loosegroove Records. A mixture of P-Funk, hip-hop, rock and jazz, it brought together social commentary with silly word-play, mixing up a musical gumbo of styles and attitudes. And that, as you've probably guessed by now, is right up my street! Calling the music nutmeg, (because hey, what else are you gonna call it?) Marshall and company put forward a revolutionary manifesto for those who feel likewise disillusioned by the increasing constriction and categorisation of modern music.
Weapon of Choice brought the seventies Parliament/Funkadelic vision bang up to date: on one level it was a party album, chock full of puns and jokes and Primus-style tomfoolery, but on another it could be dark, addressing social injustice and personal apathy in the face of society's evils. But then, since the band's roots are in South Central Los Angeles, what else could you expect? Weapon of Choice had a serious message, albeit on wrapped in light-heartedness: Nutmeg music means extending your ceative vision to embrace all musical and cultural forms in your community, be they white, black, hispanic, asian or martian. It's the music of the melting pot: "Recognize both differences and similarities between you and other beings" is the first rule of Nutmeg Potty Training; "Accept other beings" is the second. "It's all good, and even if it ain't all good, it's allright."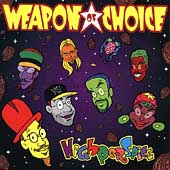 In 1996 Weapon of Choice released their second album, Highperspice, again playing on the theme of Nutmeg music. On this occasion drumming duties were taken up by Derek "D-Rek" Pierce and Fish of Fishbone. It's a slightly more uptempo album, and increases the nutmeg mix of music still further, throwing a little reggae and ska into the multi-groove stew.
The band took their larger than life stage show on tour, appearing with Primus and Fishbone, among others. They released a third album, a compilation called Nutmeg Phantasy, to help raise funds for the Nomayo organisation (a charity to help bring musical education to inner city youth). For a while the band was put on hold: Lonnie toured as One Nut Stand, while Keefus left to record and tour with Everlast. The dawning of the new millennium, however, has seen a resurgence of nutty energy, and Weapon of Choice have been recently playing concerts in the Los Angeles area with a gently mutating lineup. A new album is available on mp3 format, and Weapon of Choice are sure to appear on the Nuttstalk touring festival later on in 2000.
Weapon of Choice Links
Weapon of Choice official site.
The new album is available on mp3 from hollynutz.com.
Back to the Index
20th February 2000