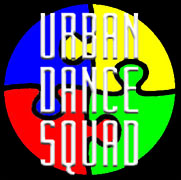 The Dutch music scene. What does that mean to you? If you don't live in the Netherlands, chances are most of the Dutch music you've come into contact with is poppy dance music. Doop, maybe, or the Vengaboys. But don't judge the denizens of the world's flattest country so harshly: it's not all pumping house beats and vapid bubblegum lyrics.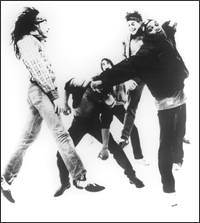 Hailing mostly from Amsterdam, Holland's Urban Dance Squad have carved a healthy niche for themselves in the Nutmeg music hall of fame. If you want a genre to put them in, you can call them rap-rock, but that's a misnomer. Urban Dance Squad have been making genre-busting music for over a decade that bears little or no resemblance to the stereotypical posturings of the modern rap-rock superstars.
Founded in 1986 as an informal jamming combo, Urban Dance Squad didn't take their project too seriously until spurred on by the interest generated by an appearance at an Utrecht festival. After a few years of gigging, UDS released their debut album Mental Floss for the Globe in 1989. It's a gumbo of Chili Peppers style grooves and hooks, pacey old-skool style rapping and hip-hop breaks and scratches. This would be the trademark UDS sound, along with Tres Manos' amazing acoustic guitar work. With 1991's Life 'N' Perspectives of a Genuine Crossover this sound was consolidated, and to it was added a little playful reggae "Duck Ska" and eastern style percussion "Bureaucrat of Flacco Street". They were among the first rock bands to truly integrate a hip-hop d.j. to create a fuller, more interesting sound, rather than novelty one-offs like Run-DMC/Aerosmith and Anthrax/Public Enemy. The band toured extensively forming strong musical ties with like-minded musical souls such as Bad Brains and 24-7 SPYZ.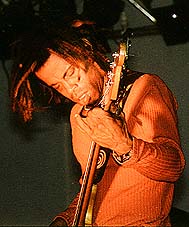 With the release of their third album, Persona Non Grata, however, UDS made a change in musical direction. D.J. DNA had left the group to perform solo projects, and the band put forward a much harder, sparer sound. Bizarrely, this caused one music journalist to label them a "Rage Against the Machine clone", even though their first foray into hip-hop and rock was published over three years before that of the shouty US rap-rockers.
Urban Dance Squad's next album, Planet Ultra followed this rock vein more closely. Indeed, in many ways the hip-hop influences were kept very much to the background. Interestingly, UDS began to explore the dance music scene, working with dance remixers. The drum & bass remixes of "Temporarily Expendible" are fine examples of the genre, and may have prompted vocalist Rude Boy to first consider his colaborations with Tom Holkenborg on the Junkie XL big beat/electronica project.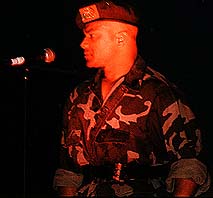 It's perhaps the influence of Junkie XL's sound that informed the latest UDS studio album, Artantica. For my money, this is the best Urban Dance Squad release yet: DJ DNA (a.k.a. DJ Donotask) returned to flesh out the sound, while Rudeboy, Tres Manos, Magic Stick and Sil give 150%.
Sadly, in February 2000 UDS decided to throw in the towel.
Cross-reference:
Vocalist Rudeboy is part of Junkie XL
Urban Dance Squad Links:
Official Urban Dance Squad site.
Virgin Records official site (The Raft).
Back to the Nutmeg UK Band Index
Last updated 24/7/2000